Tasty Tatooine Tangerine Star Wars Cake
For our Star Wars themed Homer Simpson cake, I wanted to create a flavour that was inspired by the epic movie sensation. Big thanks to my brother, Ashley for coming up with Tatooine Tangerine cake!
For the carved Homer cake I used a Tangerine infused vanilla cake and Tangerine infused milk chocolate ganache.  I didn't want to use any soft fillings, but I wanted something more then just ganache.  I sliced each layer of cake in half and added a thin layer of tangerine curd. Then, I layered each cake with tangerine infused milk chocolate ganache and used this to cover the cake as well.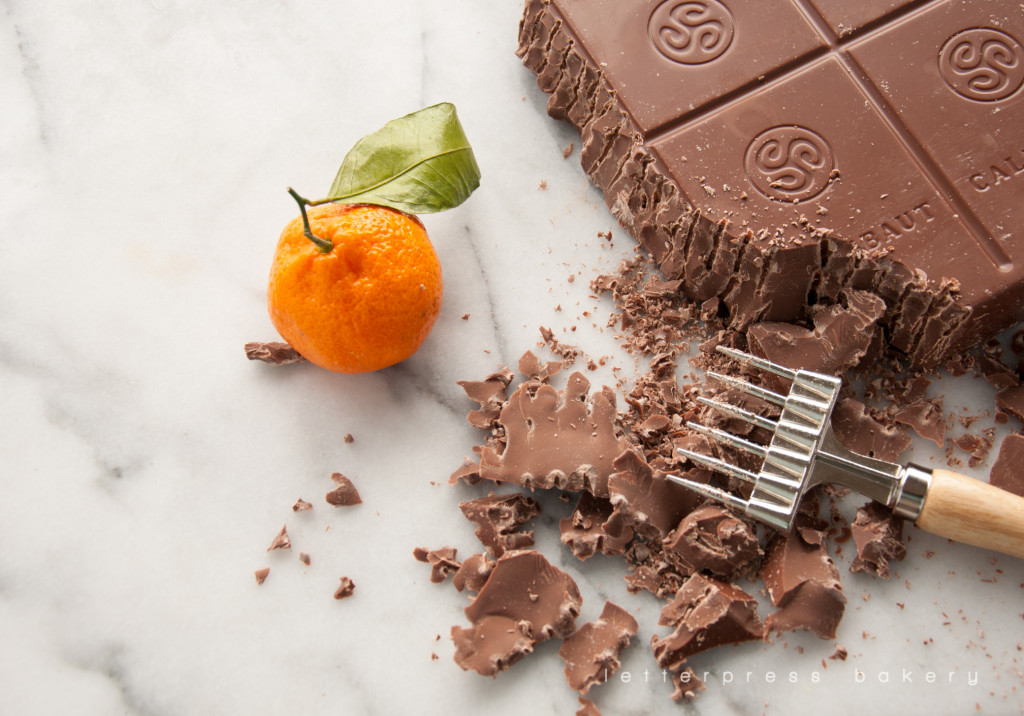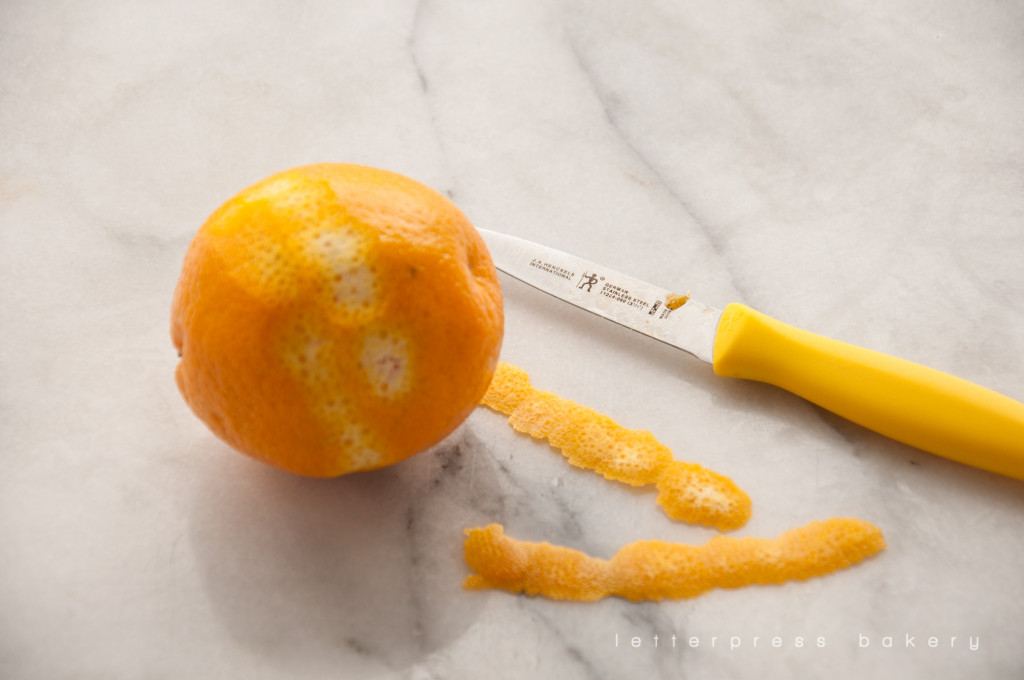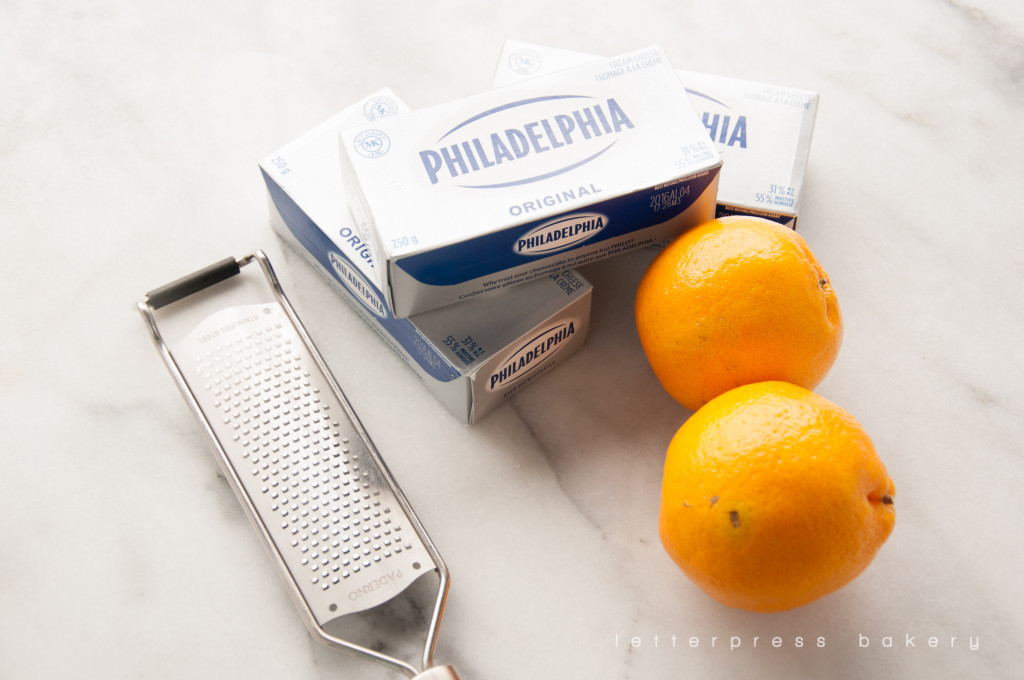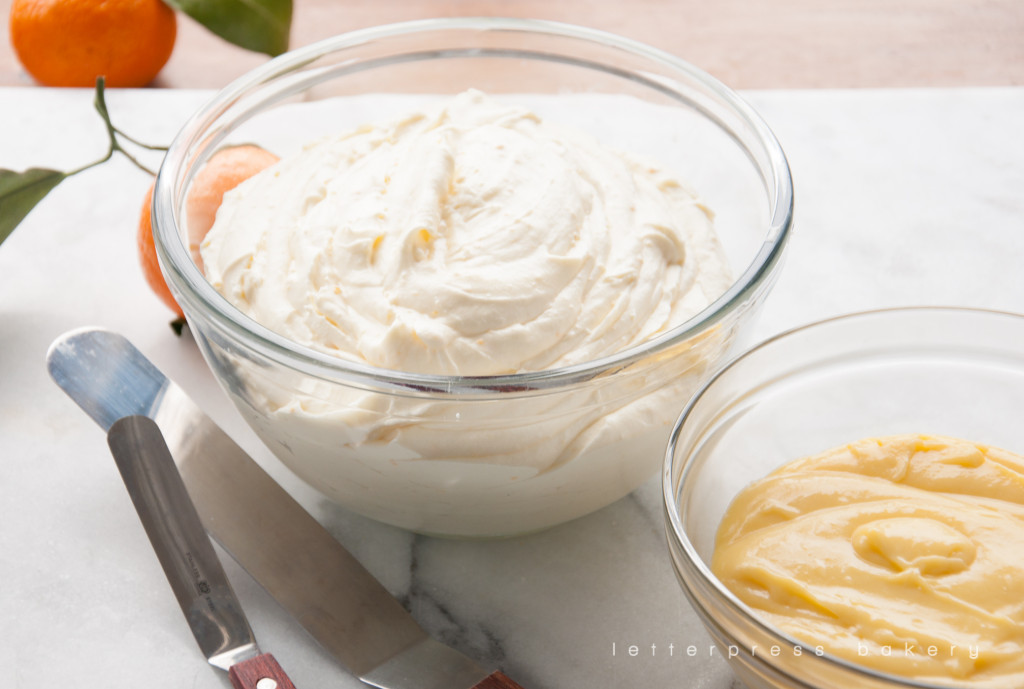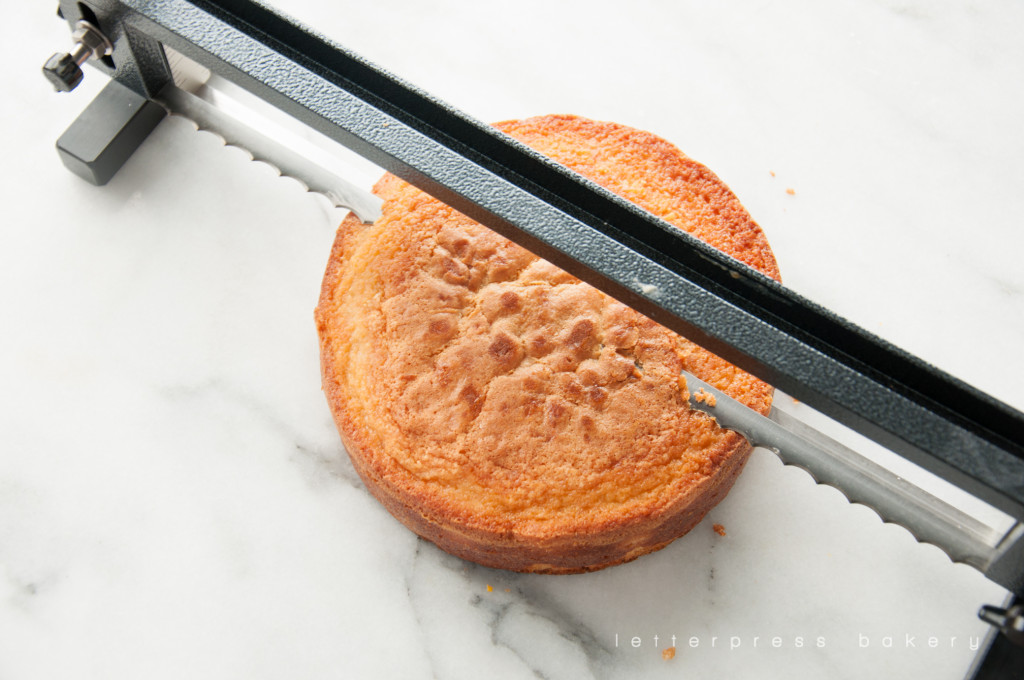 After the cake cooled and rested overnight, I sliced it with my Agbay, but this could also be achieved with a serrated knife and a skilled hand.  Then I spread a thin layer of curd on the bottom cake layer leaving a border around the outside so that the ganache can stick to the cake and not slip and slide on the curd.   I  then added a border of ganache to prevent any curd or cream cheese icing from spilling out. Next, I added the cream cheese icing and the next layer of cake.  Repeat until all layers are stacked.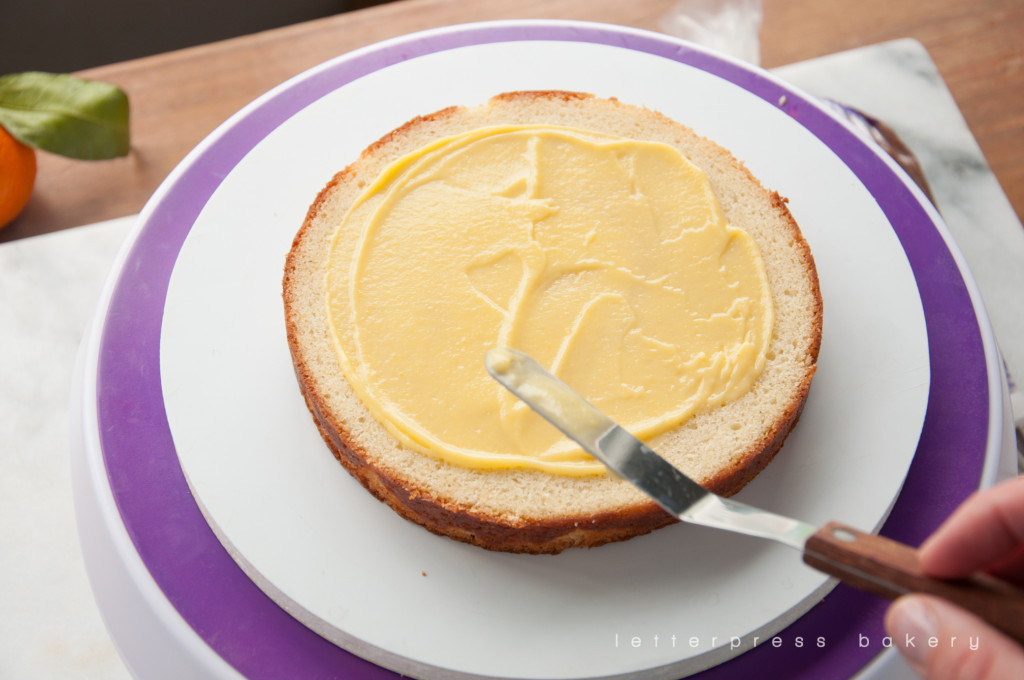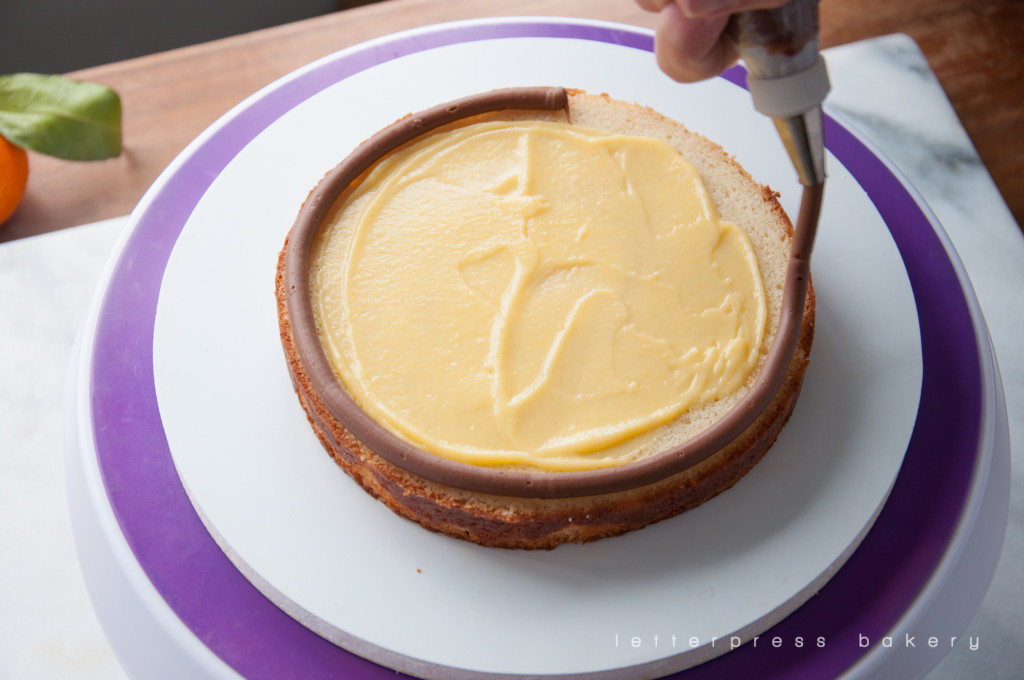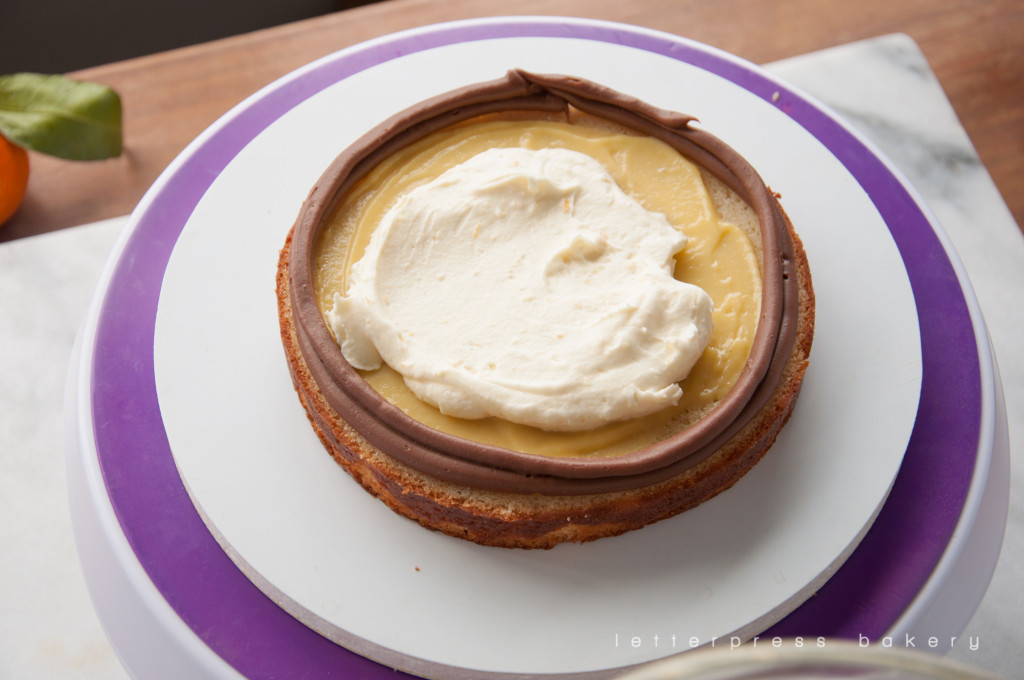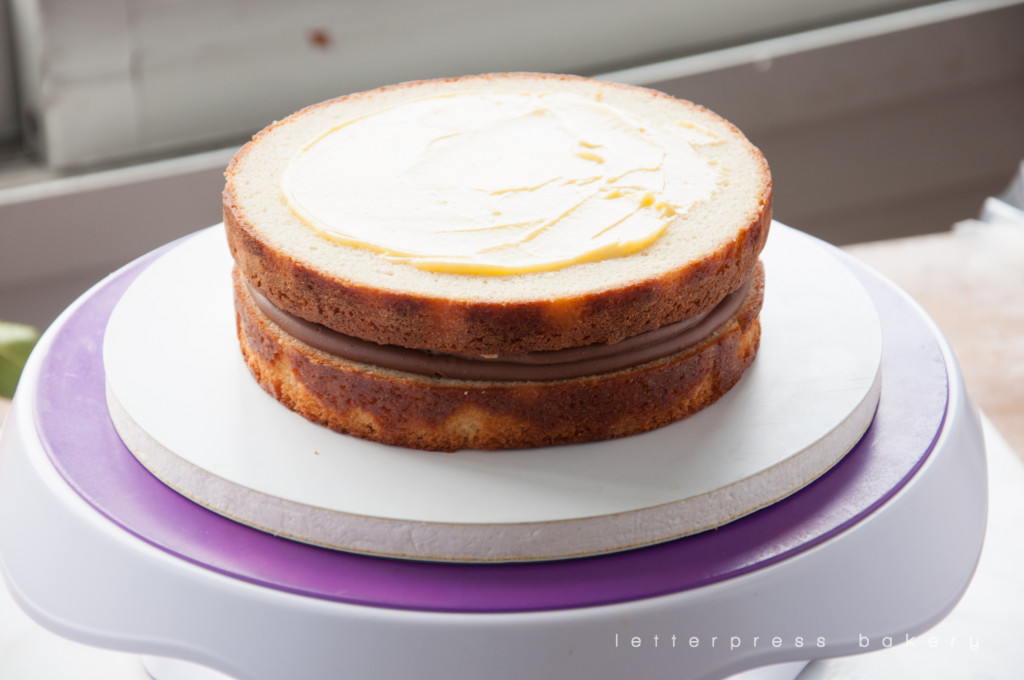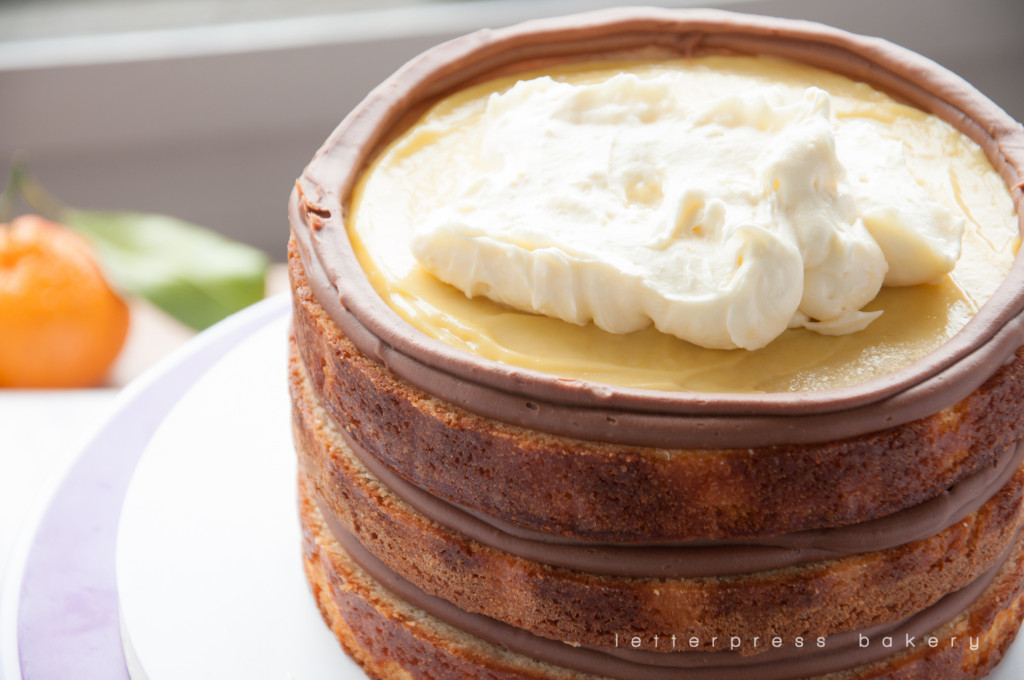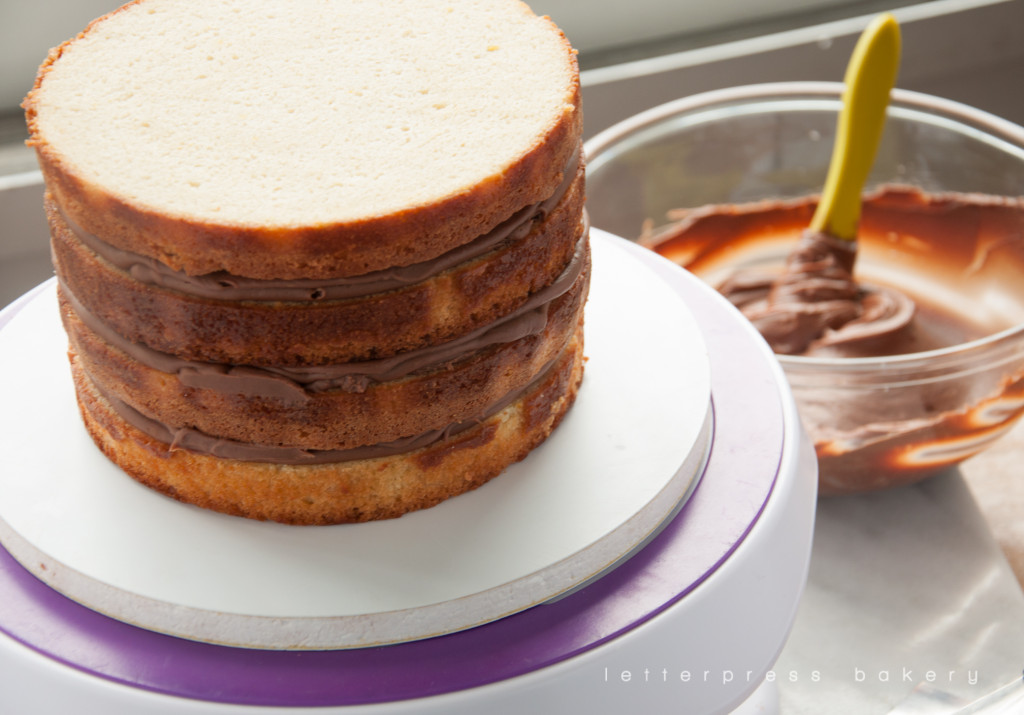 To mask the cake with the chocolate ganache, I like to start on the top and then cover the sides.  After they are covered I use a bench scraper to smooth out the sides and top of the cake.  This is where it is very beneficial to work on a turntable.  Use this to your advantage while smoothing out the sides of your cake.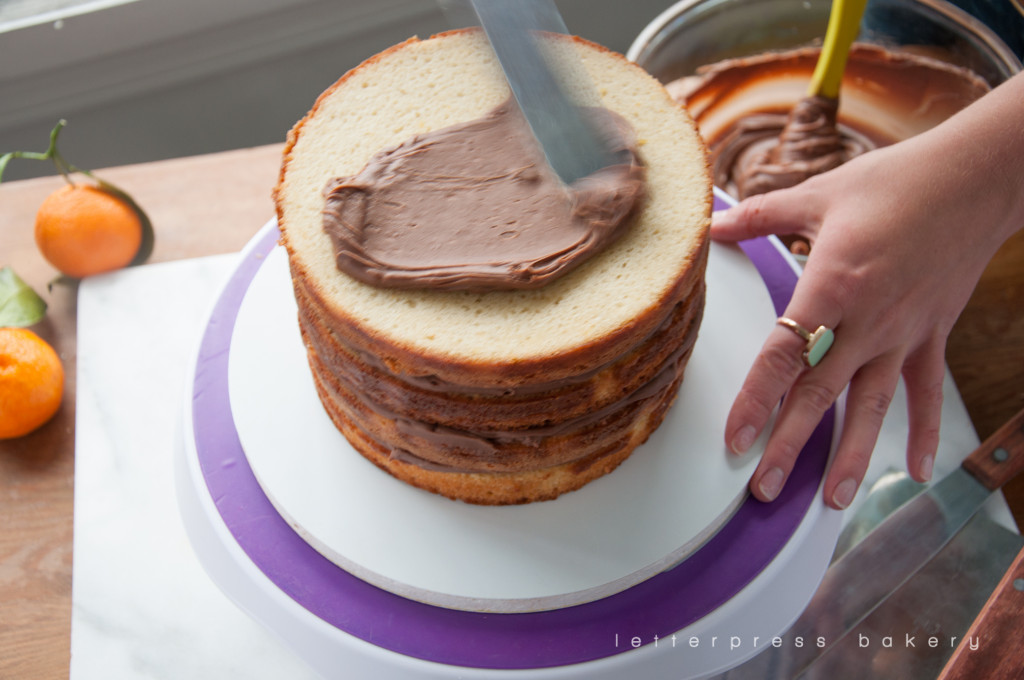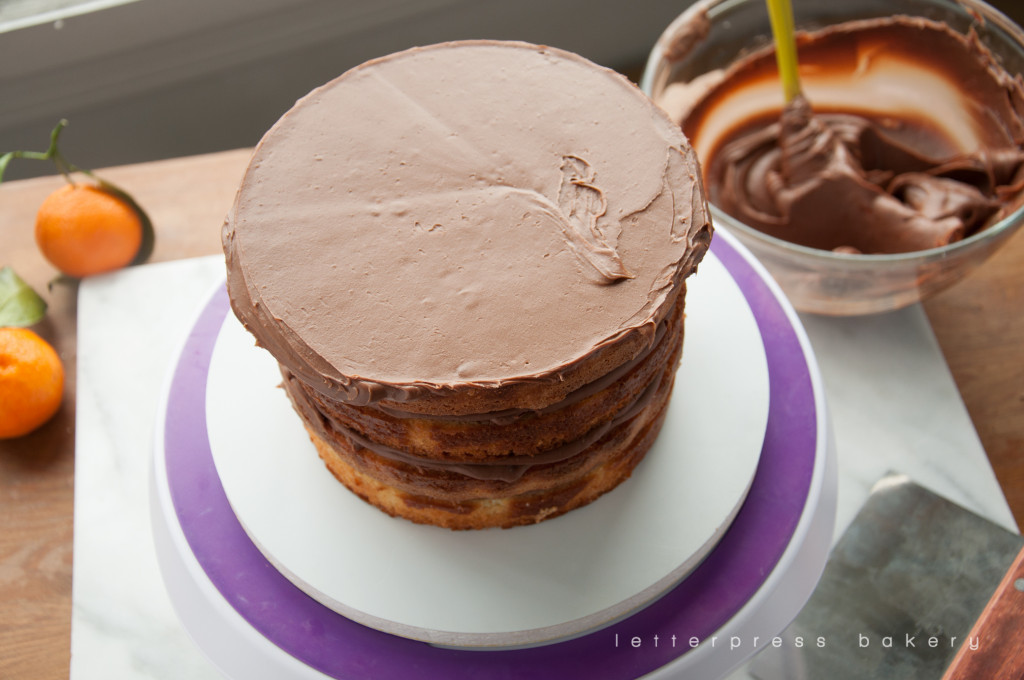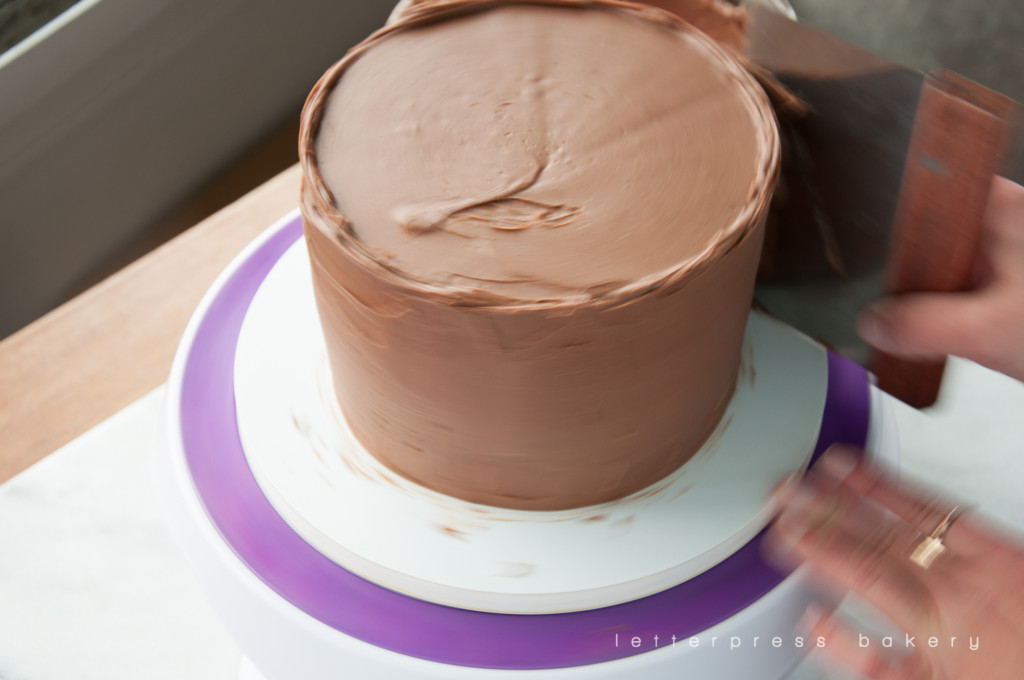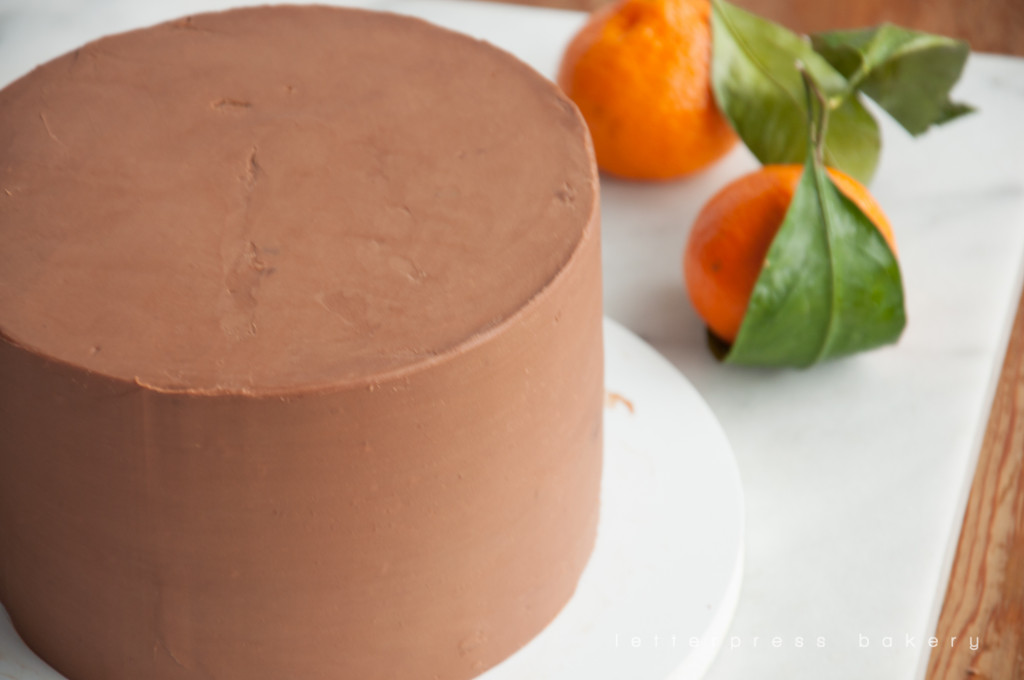 Ever since I tried Kara Andretta's Perfect vanilla cake recipe I haven't looked back. It's crazy delicious and easy on the dishes. (which always scores points in my books!)  It really makes a difference when you're baking eight batches at a time.
With Kara's permission, I am reposting her recipe here with my Tangerine adaptation.  For full instructions on how to make her cake check out her blog post here. 
Kara's perfect vanilla cake
*With tangerine adaptation
Yield: 2 – 8" round cakes (use 3 inch deep pans, or line them higher than the edge with parchment)

Ingredients:
All Purpose Flour                                     16 oz. (3.25 cups)

Baking powder                                          2.5 tsp.

Granulated sugar                                      22 oz. (3 cups)

Salt                                                              .75 tsp.

Unsalted butter, room temp                  8 oz. (1 cup; 2 sticks)

* Zest from 1 tangerine

Vanilla Bean Paste*                                 1.5 TBSP

Egg Whites, large, room temp               7 each (about 1 cup)

* Milk, whole, room temp                       10 oz. (1.25 cups)

* Freshly squeezed tangerine juice       2 oz. (1/4 cup)

Vegetable oil                                              1 oz. (1/8 cup)
* add the freshly grated tangerine zest along with the butter.  Kara mentions it in the instructions but I feel like it is worth repeating, for best results, make sure your ingredients are ROOM TEMP!
Milk Chocolate Tangerine Infused Ganache
Ingredients:
Chopped Milk Chocolate                         700g

Whipping cream                                        350g

Zest from 2 tangerines
* Couverture chocolate is best if you can, in my opinion the quality of your chocolate really makes a difference when making ganache. You could use dark or white chocolate in place of milk, its just a preference.  If using white chocolate, you may need to reduce the amount of whipping cream to get a good consistency for masking.
*Tangerine skin is quite thin so you will have to use a zester to zest, making sure to strain with a very fine mesh sieve.  Alternatively, if you are comfortable with a knife, you can use a small sharp knife to zest, being careful to only get the orange skin and leave behind any white pith. Some is ok, but too much can cause it to be bitter.
Add the whipping cream and Zest to a pot and gently bring to a boil.
Have the chopped or chocolate chips ready to go, in a heat proof bowl.
Once the cream is gently boiling strain it over the chocolate.  Let it rest for a few minutes so the chocolate can start to melt.  One thing I have learned about making ganache is to mix slowly, very slowly.  Mix a couple of strokes and then let it rest.  Repeat until the cream and chocolate have all mixed together.  Then you can mix more vigorously or even use an immersion blender to ensure it is well mixed.
Cover with saran wrap directly on the surface of the ganache. Leave it at room temp to cool and then store it in the fridge.  When its time to use it, bring it back to room temp. You may need to warm it back up very slightly on your lowest microwave settings, 5 seconds at a time, depending on your room temp.
Tangerine Curd
For the Tangerine curd I used a recipe adapted from David Liebowitz found here .
Ingredients:
Zest of 2 Tangerines

Freshly squeezed Tangerine juice        1 cup (250ml)

Sugar                                                          1/2 cup (100g)

Unsalted butter, cubed                          12 tablespoons (6 ounces, 170g)

Large eggs                                                 4

Large egg yolks                                        4
* you could use oranges in place of tangerines in any of the recipes but they do make a really nice flavour. I found mine at a Chinese market.
Heat the butter, tangerine juice, sugar and zest in a pot over medium heat.  Stirring occasionally until the butter is all melted.
While that is warming up, mix together the eggs and egg yolks in a bowl.
When the butter is fully melted add a small amount of the warm mix to the eggs to temper.  Which means you are bringing up the temperature of the eggs without turning them into scrambled eggs.  Slowly add more whisking as you go until you've added at least half of the warm mixture to the eggs.  Then you can add the egg mix to the pot, slowly and whisking as you go.
Keep an eye on it now, and stir constantly or you will get a hard cooked eggy mass on the bottom of the pot. If you do get some cooked egg bits thats ok, we will strain them out.
Have a strainer over a clean bowl ready to go.  When the curd coats the back of a wooden spoon, strain the curd into the bowl.  Let it cool down and stir occasionally to prevent a skin from forming as it cools.  Then place saran directly onto the surface of the curd.  Cool and store in the refrigerator for up to 10 days
Cream Cheese Icing
*This is optional and super tasty without, but I thought it would add another level of flavour to the layer cake.
Ingredients:
Cream cheese                      2 cups (500g)

Butter                                    1/2 cup(125g)

Icing sugar                           2.5 cups (312g)
Cream the butter in a mixer on medium to high speed for 2-4 minutes.  Make sure your cream cheese is soft enough for a spatula to go through it.  Add it to the butter and cream for another 2-4 minutes.  Add sifted icing sugar one cup at a time, mixing well after each addition.
Store in refrigerator. * this made way more then needed to fill one 8″ round cake. If that is all you are using it for, I would half the recipe.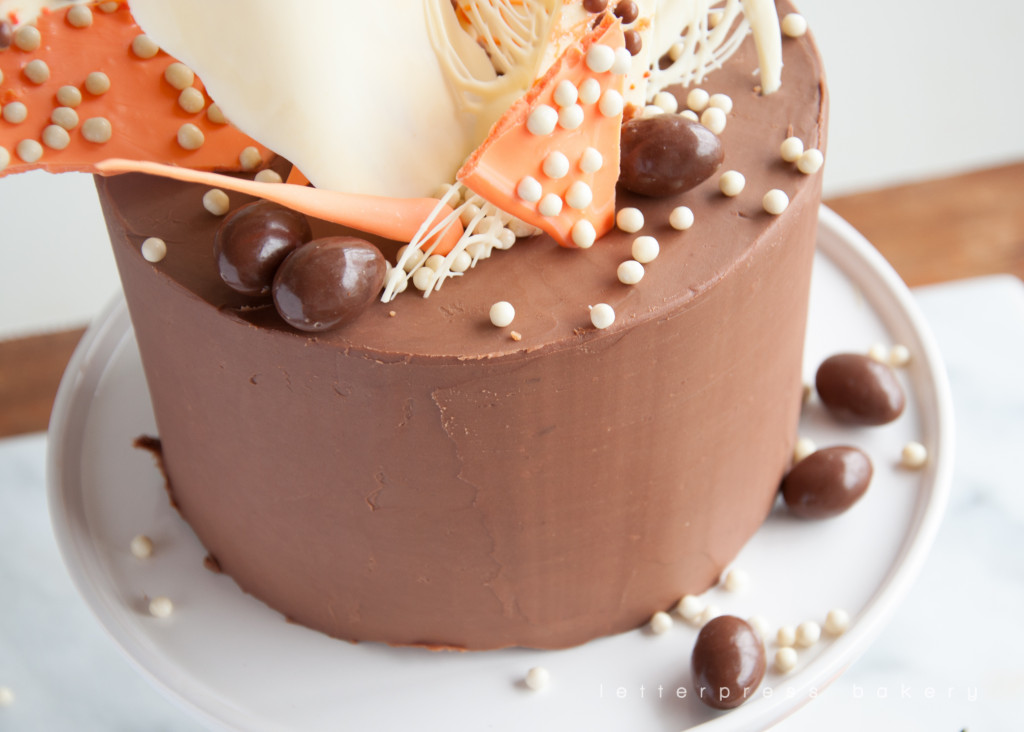 To add some decoration to the cake I kept with the Tangerine and Star Wars theme and used white, milk and BB8 orange coloured chocolate, as well as some non perils, dragées, crisp pearls and chocolate covered almonds.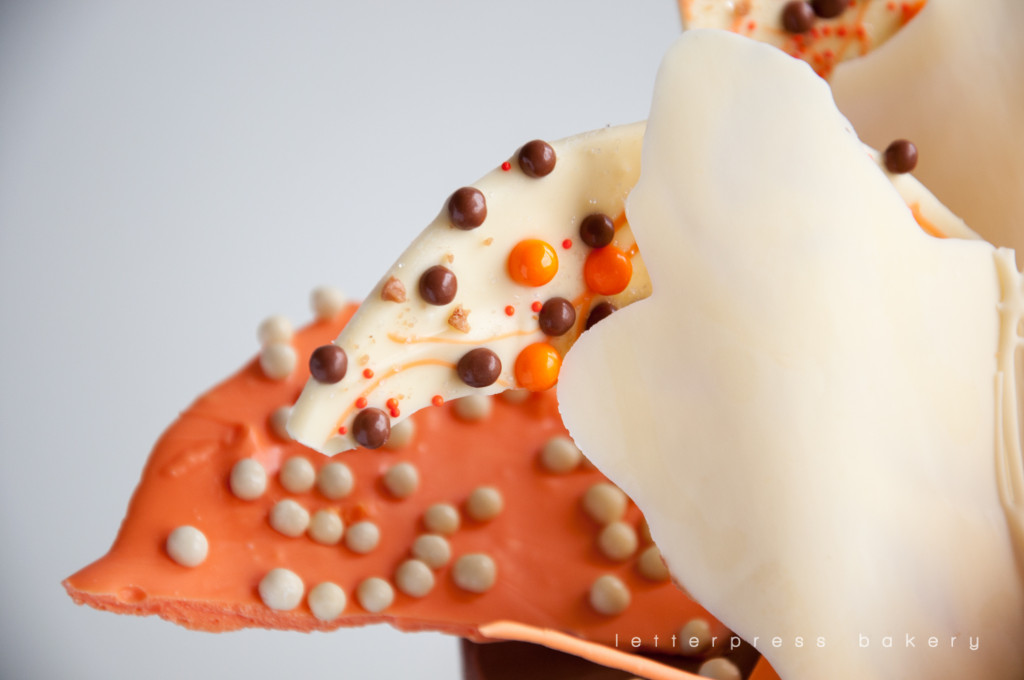 Thanks for checking out my Tasty Tatooine Tangerine Star Wars cake.  May the force be with you,
KyKy xx